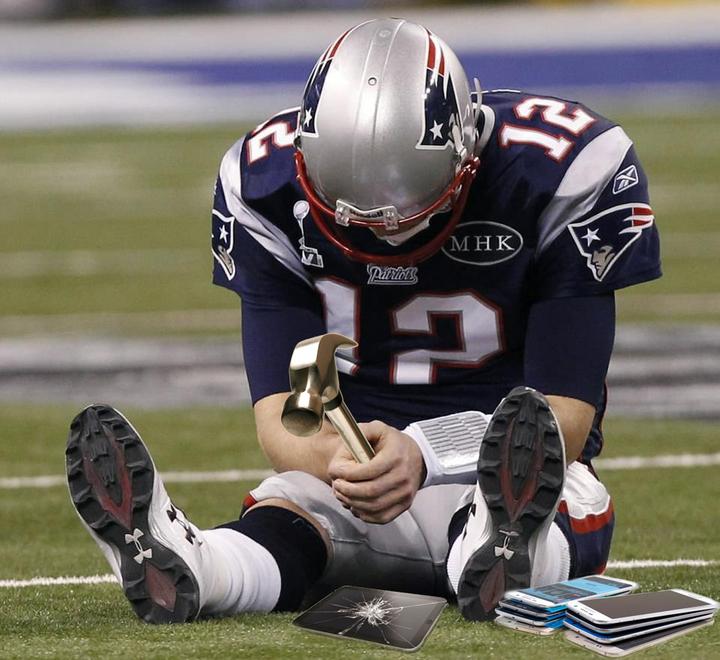 Unless you smartly avoid social media, television, or radio, you have probably heard the news that Tom Brady's four game suspension was upheld earlier today for his involvement in the DeflateGate scandal. I for one, thoroughly believed that his suspension would be reduced to one game, if not wiped completely, especially after Greg Hardy's suspension (for being convicted of domestic abuse) was reduced from ten to four games.
So now that Brady will fight this suspension in federal court (isn't this getting ridiculous?) I have some thoughts:
I don't know what Tom Brady did or didn't do, and neither do you. However, I believe something happened and Brady had knowledge of it, at the very least.
So why didn't Brady want to hand over his cellphone records? Well, the obvious argument is that he doesn't want to reveal personal information. That's fine, but the NFL would have allowed Brady's agent/lawyers to "screen and control" what the NFL saw on his phone. Brady instead chose to destroy his phone right before meeting with the investigators and also claimed it's a regular occurrence for him to do so. Except:
Seems like an odd coincidence he would do this fairly often except for that one time it would help prove his innocence.
The NFL stands to gain nothing from persecuting the player who is arguably their poster child (talented, successful, handsome, beautiful wife, model citizen etc.). So why conduct a witch hunt? Commissioner Roger Goodell is Patriots owner Bob Kraft's handpicked puppet to run the league. Why would Kraft allow this to happen, unless he knew something unsavory had been conducted by his team?
And then there are the ballboys. Though the Patriots claimed they did nothing wrong, they suspended the two employees in question without pay, for…what exactly? (For those interested, here are some of the texts between those same equipment kids). Not only did the patriots suspend them, but the Players Union also refused to let them testify!
So what to make of this whole situation? It's absurd. NFL suspensions are ridiculous and are essentially made up for each new situation. I mean, somehow domestic violence wasn't even accounted for by the NFL until last year. So do I agree with the NFL's suspension of Brady? I'm not sure, four games seems pretty hefty to me. However, it appears the NFL is attempting to set a standard that one does not compromise the integrity of the game (SpyGate and the tampering accusations probably did not help the Patriots' case either).
The only conspiracy theory thing I can think of is that the NFL suspended Brady in an effort to detract attention from their mishandling of the Ray Rice and concussion situations. It's the main reason I firmly believed Brady would get his suspension reduced/expunged. I guess not though, and I still can't believe the situation has come this far. Sigh, can't wait for the federal court case!