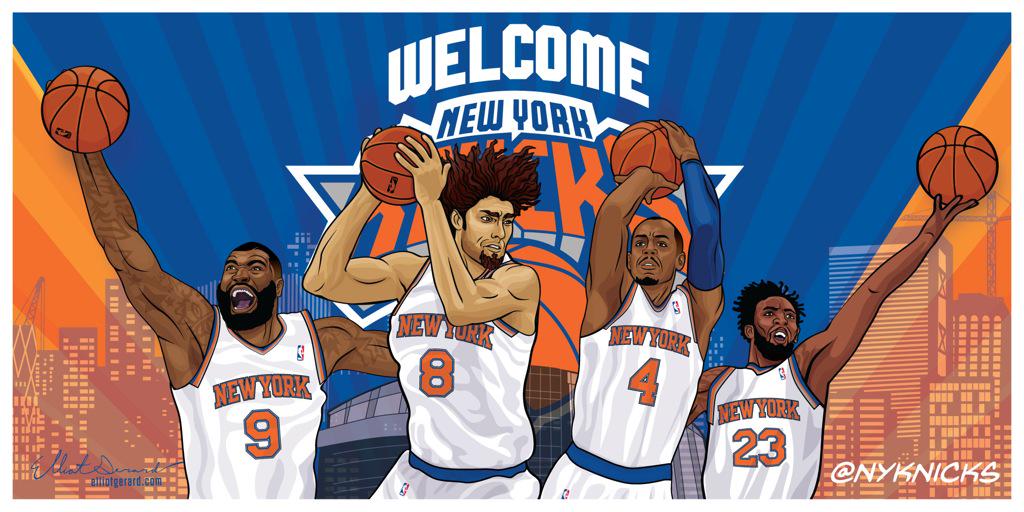 As of August 5th, 2015, the New York Knicks' offseason has just all but concluded. There was a huge amount of turnover from last season's roster as the Knicks look to move forward from the worst season in franchise history. The offseason began when the Knicks drafted Kristaps Porzingis with the fourth overall pick. That decision was met with a great deal of negativity because it appeared to conflict with the franchise's direction after they handed Carmelo Anthony a 5-year max extension one year ago. However, it's the "do whatever it takes to win now" mentality that put the 17-win Knicks there in the first place. If you want to read more about my thoughts on the matter, I covered that decision in detail here
Despite not landing any top free agents, Phil Jackson and the Knicks brass had a solid offseason as they rebuilt one of the most talent-depleted rosters in the league. The team now has a decent group of role-playing veterans and exciting rookies to pair up with Melo in their efforts to field an actual NBA team this year. Below is the salary breakdown for all 15 players currently on the roster:
I was able to watch most of the Knicks Summer League play in Las Vegas this year. It was interesting to see as the Knicks moved away from strictly running the triangle and incorporated some pick & roll sets (something new guard Jerian Grant ran in college). With that said, a lot of the youngsters showed some serious promise. That's all nice, but let's find out about the new guys.
The New Additions:
---
Kyle O'Quinn (PF):
This is maybe the most intriguing addition of the offseason. O'Quinn never received a lot of playing time during his three seasons in Orlando, but his per-36 stats are fantastic (take this with a grain of salt as more minutes doesn't always lead to similar levels of production).
In his NBA Groupon Games piece from earlier this offseason, Zach Lowe of Grantland mentioned O'Quinn. Here's some of what he had to say:
O'Quinn has a lot of discrete skills, but lacks the one foundational skill to let them shine consistently. He might be able to approximate Boris Diaw's passing, but he doesn't have a Diaw-style post game to draw double-teams and open up the most productive passes. He can do work on the move, but he doesn't actually move all that much without the ball; Orlando's coaches have urged O'Quinn to roll hard to the rim, but he has a bad habit of just kind of floating in space after setting a screen. That would be an acceptable habit if he could float himself out to productive 3-point shots, but he hasn't done that yet.
Even though he's not much of a leaper, O'Quinn provides a whiff of rim protection. He has long arms and good timing; he gets a lot of Draymond Green–style blocks, in which he barely leaves the ground but uses his wingspan to smother shots. He's a talker on that end, but he gets confused now and then, and he doesn't have the bounce to string together multiple strong cuts and jumps around the basket.
I'd recommend reading the rest if you get the chance. Zach Lowe is the one of the best in the business and he has some nice gifs to help back his claims. Tommy Beer of Basketball Insiders brings up a nice tidbit of O'Quinn's offensive value, which you can see for yourself in the highlight tape below:
While there's something left to be desired about his scoring, his finishing around the rim is surprisingly good. One could certainly do worse for a rotation big man on a very sound deal (four-years, $16 million). Also: he's still only 25 years old. Having a young core is typically regarded as a positive thing in the NBA, and the Knicks are finally catching onto the trend.
Robin Lopez (C):
Perhaps my favorite signing from the offseason. The Knicks snagged the 27-year-old for four-years and $54 million (maybe a tad pricey, but I'll take him over Enes Kanter any day). He averaged a mere 9.7 points and 6.7 rebounds last season, but there's more to him than superficial stats. Per Seth Rosenthal of Posting & Toasting:
Here's what Robin Lopez does on offense: He screens. He screens constantly. He screens on the ball and off it, then he rolls hard to the rim (a LOT), or he sinks into space then plows into position. It would behoove the Knicks to work some of that old high pick-and-roll back into their offense (and based on the end of last season, I suspect Derek Fisher is happy to do so), because Lopez has some…well, some Tyson Chandler-like qualities as a threat coming off screens. When the defense wrinkles, Lopez is there at the basket for an easy feed and finish, either dumping in a wide-based righty hook or just springing forth to smash on somebody's head. If a shot falls off the rim, he's in place to put it back.

There's a chance — though I wouldn't count on it — that extra minutes and participation in some Triangle sets unlocks a bit more of Lopez's offensive game. Though he shoots there infrequently, Lopez has shown some accuracy from the high post out to the elbow and corner:
While he's not an exceptional defensive rebounder, Lopez was 11th in the NBA in offensive rebounds per game last season. When adjusted for offensive rebound %, Lopez was still top 15 in the NBA among players who played significant minutes. In a post written by Seth Partnow of Nylon Calculus, he examines contested rebound % and Lopez's value. I suggest reading the whole thing, but here's the gist of what he had to say:
Among the set of 100 or so regular rotation bigs in the NBA last year, the lowest proportion of Lopez's rebounds  were these uncontested defensive types. Conversely his now ex-teammate LaMarcus Aldridge was among the leaders in highest proportion of uncontested defensive rebounds.
Lopez also had one of the better Opp. FG% among big men who played significant minutes (48.0%) while defending the rim. The top defenders, such as Ibaka, usually keep their opponents to around 40% at the rim, so Lopez is certainly above average.
This addition alone should make a drastic difference in the Knicks front court, and we get the added benefit of watching Lopez fight other teams' mascots next year.
Arron Afflalo (SG):
Former teammate of Melo on the Denver Nuggets, Afflalo solidified himself as a respectable 3&D wing player. At 29 years old and following a down season, it's unclear if Afflalo is on the downside of his career or is poised for a bounce back. Matt Moore of CBS Sports wrote a rather positive review of the Knicks offseason, and here's what he had to say about Afflalo:
Instead, they got tremendous value with Arron Afflalo on a two-year deal. Afflalo was an All-Star candidate in Orlando, then Denver wildly disappointed him (and he them) with the Brian Shaw era. In Portland, he never found his groove. There's a versatile two-way guard who can shoot from the outside, post at the elbow and make smart plays locked somewhere inside Afflalo, and the Knicks hope the Triangle will unlock it.
Well there's at least one thing for certain. At the very minimum, Afflalo provides the Knicks with another scoring option (which they still have very little of). Let's hope this most recent season was the outlier and his regression to the mean results in play like his 2013-2014 form.
Derrick Williams (PF):
Undoubtedly the worst addition of the bunch (EDITOR'S NOTE: this could very easily change since the Knicks added Vujacic and Seraphin, but I don't feel like changing the opening line). The Knicks outbid no one in their efforts to hand Williams a two-year $10 million deal (player option in year two). For a guy who doesn't excel at any one particular thing (flashy dunks?), this deal doesn't make a ton of sense. Look at the "real plus minus" metric for instance. The metric itself has some issues, but it's telling that the 2011 second overall pick qualified as 92nd of the 95 listed power forwards in the NBA last season. He's still only 24 and has played in some pretty undesirable situations for the David Kahn-era Timberwolves and the chaotic mess that is the Sacramento Kings, but I don't know enough about him to have confidence that he will still be a productive player for this team. I've been wrong before though, I guess we'll have to trust the Zen Master on this one.
Kristaps Porzingis (PF/C):
I defended Phil Jackson's heavily criticized decision to draft the massive Latvian prospect in last month's draft. The number four overall pick did manage to raise eyes with his play in this year's Summer League. A lot of people have already shut the book on Porzingis, but they are likely many of the same people who tried to convince me that Melo would be a good defender at some point (it didn't/still will not happen). The kid has a long road ahead of him and it's wrong to expect any rookie to become an above average contributor right away (that rarely happens for rookies anyway). However, there are some positive and negative takeaways.
Many of the negatives revolve around his frame.  He's 7'2 and is supposedly around 230 pounds (for reference 6'11 Jahlil Okafor weighs over 270 pounds). Due to his weak frame, many of the larger big men did (and will continue to do so) push him around, such as Okafor, which will lead to a low rebound % for someone so large. However, Porzingis will often times be able to use his 7'7 wingspan to help get his hands in the faces of those bigger and/or quicker than him (as you can see in the third vine below). He'll struggle to defend many of the larger players he goes up against this season, but he'll also rack up his fair share of blocks as well.

He's a knockdown shooter with very swift feet. He can hit shots off of a screen, which leads me to believe he'll be great on catch & shoot opportunities as well.
He can stretch the floor:
He can play some defense (read more about it in the link):
And he can pass out of the low block:
Porzingis' size isn't a huge concern for me as that will improve now that he's working with a professional strength and conditioning coach/team. I understand the fear and concern of the "soft European" type, but someone has to break that stereotype at some point and I'm betting on him. Very few things are more valuable in the current NBA than 3-point shooting and rim protection. It just so happens that he can (to an extent because he turned 20 three days ago) do both.
Jerian Grant (PG):
Grant is the son of former NBA role player Harvey Grant (who is the brother of the much more recognizable defensive big man Horace Grant). He's 23 years old and stands at nearly 6'5 with a 6'8 wingspan. At Notre Dame, Jerian Grant hit 34.5% of his career college 3PA and was a solid overall scorer.
I won't attempt to convince you I watched him play a lot in college (I didn't), but I did see some nice things from Grant in Summer League play. He looks great driving to the hoop and in transition, but also looks very lost in the Knicks' half court sets. And while he likely won't be an elite wing defender (he could be I honestly have no idea), he will probably rack up a fair amount of steals and blocks because of his length and size (and jumping ability).
One weird issue Grant has is that he often jumps in the air before making his decision about what to do with the ball (as you can see in the third vine below). He'll find himself in some rough patches this season, but it will be nice to see the Knicks have a (hopefully) stable and productive option at the point guard position for the foreseeable future.
Pull up jumper and recovery block:
Finds Porzingis on the difficult pass:
Hitting the big man again:
Finding the backdoor cut after a Porzingis block:
Contested Finish at the rim:
I really like Grant, and I hope he'll be a great player for years to come.
Wesley Saunders:
A Harvard grad and shooting guard who recently played for the Utah Jazz in the Summer League. I know nothing else about him, but he has a partially guaranteed deal and it will be interesting to see if he makes the opening day roster.
Sasha Vujacic (SG):
Vujacic was a solid role player on Phil's most recent Laker title teams who has been playing in Europe for the last few years. I thought his last season was 2011 when the Lakers traded him to the Nets, but he apparently made a welcomed addition brief appearance for the Clippers in 2014 (only four games). I don't really know what he provides the Knicks at 31 years of age, but at the very least he gives them depth at shooting guard, some familiarity with the triangle, and hopefully some outside shooting.
One bright side of Vujacic's return is that we will hopefully see more of these incredible videos from his Laker days:
Kevin Seraphin (C):
I had already been working on this piece for a while before the Knicks used the room Mid Level exception on Seraphin so I'm not going to spend much time on him. He's a solid backup center who can play some defense, but his career BPM (a whopping -3.9) is terrible (especially on offense). I can't name anything that he provides that the Knicks don't already have between O'Quinn and Lopez. I doubt he's apart of the future and is probably just depth at this point, but the Knicks might as well have retained Cole Aldrich then bring in Seraphin. I don't think he'll play too much this upcoming season and is only on a one year deal. Oh well.
The Incumbents:
---
The Knicks re-signed Lou Amundson and Lance Thomas earlier this offseason. Amundson provides big man depth and pesky defense/rebounding. Thomas doesn't excel at much but can hit the occasional three-ball and adds another body on the wing. Other returning rotation players include youngsters Langston Galloway and Cleanthony Early, as well as veterans Jose Calderon and Carmelo Anthony. That brings the roster to 15 total players, which means the Knicks will likely bring aboard one of their summer league players.
The grizzled veterans are amongst the least desirable on the roster. Despite returning from knee surgery and now on the wrong side of 30, Carmelo is still one of the best volume scorers in the game. However, he typically needs to work in a high isolation offense to showcase his skills. For the Knicks to get a whiff of the playoffs this season, Melo has to not be Melo. Isolation offense is typically dreaded by stat heads as inherently inefficient. So ideally what we need from Melo is system discipline and to be unselfish with his possessions. Melo is already a gaping black hole on defense and that is never going to change. Therefore, Melo has to become (somewhat) of the player he has resisted for so long to give the Knicks a chance at a playoff spot this year. But don't worry, he'll still have his nights where scores 32 points on 28 shots.
Calderon is what he is at this point. He's 34 years old and can run an unsexy offense and hit 3 pointers around the 40% mark. He, like Melo, is a woeful defender and the Knicks are on the hook for two more seasons and $15 million of unspectacular play. My guess is that they are reluctant to use the stretch provision on him, but would love to move Calderon if a trade presents itself. I still have to imagine he's the starting point guard on opening day.
Galloway is a solid backup point guard who can hit threes and run the triangle. Arguably the Knicks best player post-All Star break last season (doesn't mean as much as you think), I would be shocked if he was cut. Due to their differing sizes and skill sets, I believe there's a good chance the Knicks look to implore some of the two PG sets they used quite a bit from a couple of seasons ago with Galloway and Grant on the floor.
Early was perhaps the Knicks' best player during the Summer League. He was often the focal point on offense, and did a solid job as a wing defender. His passing and 3-pt shooting both need work, but an expanded role in the Knicks offense this year is definitely in the works. I didn't watch him much when he played last year on the actual Knicks roster, but I was impressed from what I saw in his Summer League play.
If you want to read some positive things about Thanasis Antetokounmpo, check out this Upside Motor piece. From watching the Knicks Summer League play, he doesn't do a whole lot in my eyes. He had the occasional flashy block or dunk which made you marvel at his athleticism, but he also had the worst +/- of everyone on the Summer League roster. He's 23 and an incredibly raw player. To borrow a phrase, "he's a year away from being two years away." I'm not so certain he'd be getting the same amount of consideration if his brother wasn't the Greek Freak, so I'm not sure what he'll provide this year. However, the Knicks will probably give him the 15th roster spot to keep him from going to Europe.
Other players the Knicks could bring back are Travis Wear, Louis Labeyrie, and Alex Kirk. However, I believe Thanasis probably has a better shot than the others to make the team due to some of the reasons I listed above.
And that's about it. 3,000 words on the Knicks and about 2,500 too many. Can Derek Fisher coach this much improved roster? Will Lopez, O'Quinn, Afflalo and others learn to play in the triangle, or will it be abandoned altogether? Will Porzingis be the next European phenom, or will he be another bust? (It can be somewhere in between, but give him more than a season at the very least). It all remains to be seen, but if everything goes their way, it's possible that the Knicks might not be bad. Take the poll below so we can estimate how many games people expect the Knicks to win next year.