(Note: I began writing this and collecting the data on February 27th, so the numbers may no longer exactly match, but are still directionally correct)
Farewell, Brandon Jennings. You lasted about ¾ of yet another disastrous Knicks season. It was unspectacular to say the least, but you can at least contribute to a real playoff team going forward:
I originally had the idea of trying to measure which Knicks point guard, Rose or Jennings, was more impactful this season. However, trying to decide which Knicks point guard was better is like deciding between buying a 2000 Honda Accord and a 1999 Toyota Camry. They'll be helpful in spurts, but it's misguided to expect big things from them at this point. So instead of overall impact, I want to take a look at how both guards played when paired with the Knicks' prodigal son, Kristaps Porzingis.
The Knicks' primary focus last offseason should have been building around Porzingis long term, so in typical Knicks fashion, they went on a shopping spree for aging vets whose best years are well behind them. Among them were Derrick Rose (trade covered in depth here), recently injured Joakim Noah (undoubtedly the worst signing of 2016 – 4-yr/$72M), Courtney Lee (4-yr/$48M), and Brandon Jennings (1-yr/$5M). The idea behind these moves was that the Knicks would contend for one of the top spots in the East, instead they are now 12 games under .500, have the 25thlowest Net Rating in the NBA, and are in 12th place in the Eastern Conference with 22 games left on the season. But the largest sin of this team isn't any of the above, it's the stunted development of their future centerpiece by poor point guard play (yes, this is subjective a subjective topic, but I believe I have a sufficient amount of empirical evidence on my side).
Though neither Rose or Jennings have been *good* this season, I just want to see if there has been any discernible difference with Kristaps' play when he shares the court with these two.
Aside from the fact both guards are essentially defensive train wrecks, let us see who is/was a more positive influence (if possible) on the young Latvian through three quarters of the NBA season. First on a per game basis. Rose is averaging 17.6/4.4/3.9 on 46.2/23.6/86.7 shooting on 15.5 FGA in 32.2 minutes per game. Jennings is averaging 8.6/4.9/2.6 on 38.0/34.0/75.6 shooting on 7.4 FGA in 24.6 minutes per game. Both are suboptimal to say the least, but the traditional job of the point guard is to create looks for others, let's see how these two do so for Porzingis.
Kristaps has been assisted on 250 of his 332 FGM this season. 52 of those have been from Jennings, and 49 have been from Rose. In case anyone thinks those are solid numbers, recent Knick-trade connection Ricky Rubio has assisted notable young big man Karl Anthony-Towns 160 times this season alone. Despite playing eight less minutes per game and making nearly eight less passes per game, Jennings averages one more potential assist per game than Rose (10.5 v. 9.5) and nearly one more assist points created per game as well (11.9 v. 11.0).
As you can see from the above chart, Kristaps takes most of his shot volume from above the break and inside the paint (though he's only shooting around league average, it's still a positive trend). Of his 727 shots this season, 216 have come from above the break (29.7%). For catch & shoot 3-pointers, Kristaps is fourth among qualified 7-footers with a 38.3 3P% on 4.5 attempts per game. Porzingis has also been used as the roll man in the P&R on 142 possessions this season, scoring 1.02 PPP. So I think it's fair to say he's effective as the roll man in the pick & pop, as well as rolling to the rim.
Now let's look at the point guard situation.
Stat dump time. On the season, Rose has played over 200 more minutes than Jennings. Despite this, Jennings had over 60 more assists than Rose up until his release from the team. Rose is 29th in the league among just point guards in total assists (Jennings 22nd), 41st in steals (Jennings 23rd), has the 15th most turnovers (Jennings down at 26th), and has exactly one game (on November 4th) with double figure assists (Jennings had seven such games). Just for hilarity's sake, he's only made 13 3PA on the season. Jeremy Lin has hit seven more 3PA than Rose, despite playing in 37 less games. Among the 120 guards who have played in 45 or more games, his mark is the 5th lowest in the NBA, and he's taken at least 23 more attempts (if not more) than those behind him. On the other hand, Rose is 14th among point guards in FTA this year, which is a positive trend considering his last few seasons, but he is still an inherently inefficient shooter.
Not sure if this is indicative of anything, but there have been 20 instances this season where the amount of shots Rose has taken are greater than or equal to the amount of points he scores in a single game (e.g. 14 points on 15 shots). For what it's worth, Jennings has 29 of these games, but on eight less shots per contest. There could be several explanations behind that, such as Rose taking a number of shooting possessions to lessen a massive Knicks' deficit in the third quarter, but it's still something that caught my attention.
Below are a couple different Knicks 2-man lineups (or the team performance when these two players share the floor). Despite the 2-man lineup of Rose & Porzingis having a higher Offensive Rating, the combo of Jennings and KP had a much better overall Net Rating, better TS% and eFG%, and a much higher Ast%. In terms of league-wide 2-man lineups, the Kristaps-Jennings pairing is has the 153rd best net rating across the 250 qualified lineups. The Rose-KP pairing has the 224th best net rating of those same 250 lineups. That's the sign of a pair that do not mesh well together.
Below are a bunch of gifs I created courtesy of 3ball, a great search tool for NBA clips. Jennings is by no means a great passer, but he often looks to move the ball early in possessions. As you can see in the below gif, he finds KP striding down an open lane before the Hornets defense can get set.
Jennings also (irregularly) attempts to use KP in the pick & roll. In the first gif below, Porzingis sets a high screen and then rolls down the right side of the lane where Jennings feeds him for a tough bank shot. In the second gif Kristaps looks to set another high screen, fakes it, and then pops above the break for an open trey. I find it somewhat astounding that a player with his unique skill set isn't used in a similar fashion more regularly. On the other hand, Knicks stay Knicks.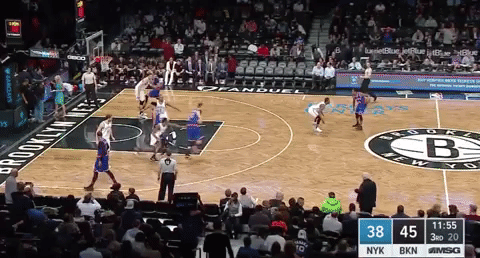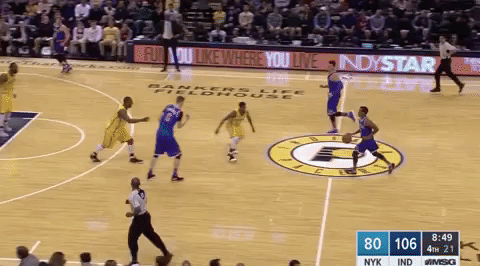 I realize that I did do some nitpicking with these gifs, but watching the Knicks it seems like I see something below multiple times a game, and not just from Rose either.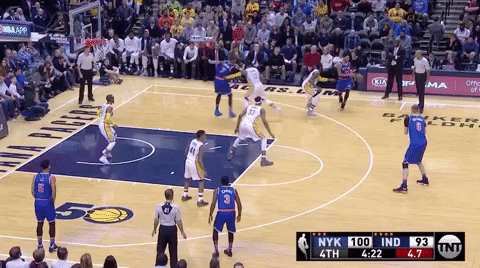 Rose still has enough explosiveness to get to the rim (shooting 52.2% there on the year), but too often he chooses to take a contested layup instead of looking for an open man (such as Melo and Kristaps below).
Rose is 10th in the entire league (of players with 40 or more GP) with 10.3 drives per game. But as you may have have guessed he has the lowest pass % of those 10 players at 25.5%. Jennings only averages 4.3 drives per game, though he passes the ball on 38.8% of his drives.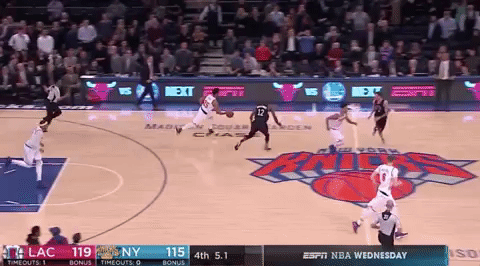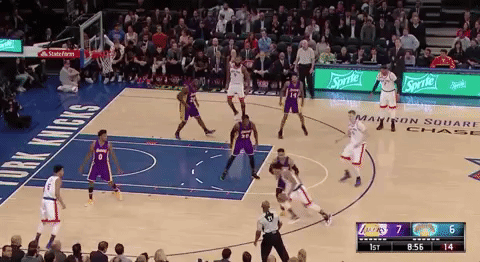 Considering his high shot volume (15.5 FGA per game), perhaps he should to look to pass the ball a little more. Regardless, he should not return to the team under any circumstances next season.
In an ideal world, the Knicks draft one of the top guard prospects in the 2017 draft to pair with Porzingis for the next decade. That likely will not be the case, so what's the next best option? The free agent crop looks solid as the Knicks could take a look at George Hill, Jeff Teague, or Jrue Holiday (Steph isn't making it to free agency). Holiday would be my pick, as he's averaging 7.4 APG, 8.2 Drives PG, 14.4 Potential APG, has a 53.9 TS% on the season, and actually picks his head up when he gets into the lane: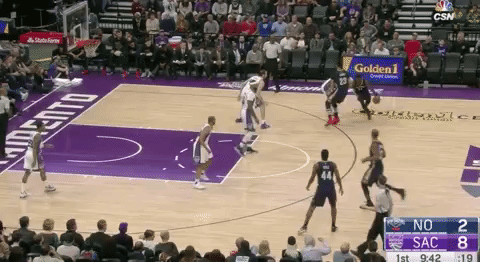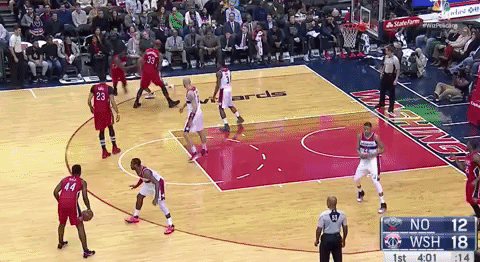 Nice.
So what does this all tell us? Only that the Knicks point guard play has been subpar and it could be hurting the development of KP (as they did him little favors this season). I take that back, Rose and Jennings might not be hurting his development, but they are just slowing it down, which is still a negative factor at the end of the day. In sum, the Knicks have had, at best, below average point guard play in 2016-17, and yet another season has been wasted.